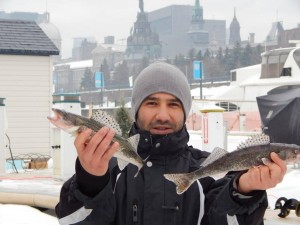 As I watch, Jean Desjardins drops his bare hand into a bucket of near-frozen water, grabs a minnow and, using his thumb and forefinger, splits it in two. He puts the head on a hook, drops the fishing line into a hole bored through ice that is a half-metre thick, and toggles the small rod up and down until the sinker hits the bottom.
Then we wait. For five minutes. He pulls up a 30-centimetre long walleye (doré as it is known here) – bright, colourful, gorgeous, but too small. The minimum keeper size is 37 cm, so he takes pliers from the pocket of his snow pants, gently removes the hook, and slides the fish back into the hole.
Jean Desjardins (Handout)
I'm at Village Pêche Blanche where, for the third winter in a row, Desjardins is running his ice-fishing enterprise in the heart of Old Montreal. Last winter he had 15,000 customers – mainly tourists on weekends, Montrealers during the week, some stopping by after work to get in a couple hours of fishing before heading home, possibly with a walleye, perch, pike or burbot dinner in hand.
With its dozen heated fishing huts, two dozen heated tents and scattered open fishing holes, the village can handle up to 300 people at once, but this morning there are about 40 of us spread out across the ice. Desjardins sells fishing time in six-hour slots starting at about $30 a person, though many people stay only an hour or two.
It's only 8 a.m. and the sun is shining in a spotless blue sky above this protected inlet between Old Montreal's rue de la Commune and Quai de l'Horloge. About 100 metres away, steam rises from the open patches of the St. Lawrence River. We're on a section of ice Desjardins saves for his toughest customers, those willing to be out there without benefit of shelter – just a person, a rod and a hole. It's -21, and although I've got on my big parka, my mitts and a toque, I'm also in sneakers that are fine for Toronto winter walkabouts, but when standing on ice, the cold creeps up through the soles.
Village Pêche Blanche in Old Montreal (Handout)
I move into one of the four-person tents, each with its own space heater. If I keep my feet resting on the base of the tent's wooden supports, they'll stay just this side of frostbitten. I set up a rod in a holster at one hole, and at the other, a "tip-up" – a miniature see-saw with an attached line that tips when you get a bite. I take my place on a small tripod stool, steel myself with a swig of South Carolina ginger-infused bourbon from my pocket flask, and wait. And watch. And wait.
"It's called fishing, not catching," Desjardins said. I understand that, in principle, but after an hour or so I get antsy. I poke my head outside and find the village is filling up. Kids are running around, people are gathering near wood-burning braziers that crackle and issue pleasant billows of smoke. A group of twentysomethings who say they haven't fished before arrive, laughing and excited about their urban adventure.
Montreal's ice fishing village gives urbanites the chance to try it out without the usual hassles. (Bert Archer)
People wander from hole to hole, sharing notes; someone has something on the line over at tent 10; a woman leaves with four fish after just an hour. The silver dome of the Marché Bonsecours glistens to my right. Behind me, a green fishing trawler is stuck in the ice. Canada's second-largest city is only 75 metres away, yet the village is calm, almost still. Back inside my tent, even the sounds of nearby chatter fade, and I'm alone in a city of more than 1.5 million, watching my lines. I'm no angler, but I'm starting to get the meditative pleasure of fishing; it's a Zen koan with a hook.
The tip-up tips. I yank the line to set the hook and reel in the 12 metres of line. Nothing. The minnow is still intact. I break up the ice in the hole, using a handy kitchen skimmer supplied with the gear, and sink the line again. I jiggle the line in the other hole, in case something down there notices the commotion and is feeling peckish, sit back on my stool and take another swig.
Village Pêche Blanche in Old Montreal (Handout)
Other, more-organized people have brought food baskets, but around noon, I call a nearby barbecue chicken outlet, recommended by Desjardins, and order a thigh and poutine. The staff at Au Coq know the fishing village and say they'll deliver in 30 minutes. An hour later, my chicken hasn't shown up, my lines haven't moved and it's time to go. But my fishing-induced, bourbon-becalmed state deflects any irritation. I haul up my lines – and the bait's gone. At least somebody got something to eat.
I tip the bait bucket into one of the holes, liberating the remaining minnows. I decide to take satisfaction from adding to the store of fish in the river, rather than subtracting from it. I zip up and head to my hotel, a short walk away, trying to think when I've spent a better half-day in Montreal. By the time I check out, I've stopped trying, because I don't think I have.